KNEC Facilitated Exam Cheating in KCSE 2022 - MPs Report
National Assembly's Committee on Education Thursday, March 22, revealed that investigations established that
some officials within the Kenya National Examination Council facilitated exam cheating during the 2022 Kenya Certificate of Secondary Education (KCSE).
Speaking in a hearing session in Mombasa, Julius Melly - the Committee's Chairperson,
revealed that findings showed that officials in the KNEC shared copies of the examination papers in exchange for money.
Further, the Committee raised concerns over the sudden shift in the performance of some of the schools that registered high grades and overall mean scores in the 2022 exams.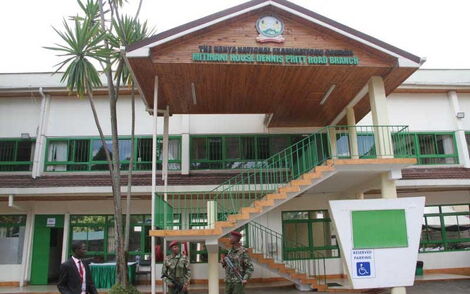 KNEC Headquarters at Mitihani House on Dennis Pritt Road, Nairobi.
According to the members, an analysis of the past performances registered in the schools under scrutiny showed massive deviation hence raising the question of the impact made within the short period.
"There was cheating in the exam of 2022. And the members of the public have put it very clear that most of the cheating originated from the council itself," Melly stated.
Education CS Ezekiel Machogu
On their part, teachers who made submissions before the committee divulged some
elements placed within the examination body engaged in selling examination papers, a business they described as highly lucrative.
Further, the teachers called for stern prohibitive measures, including establishing an independent body to provide oversight on KNEC in its mandate of administering national examinations.
"It is a system that is corrupt. I am told this has happened and then I look the other side. If we leave this unpunished the cartels will be bolder," a representative told the committee.
Members of the committee announced that investigations into the conduct of the 2022 KCSE will be completed in two months. Subsequently, the Committee will compile a report recommending action against the culprits.
The Committee will, in the meantime, continue traversing the nation for the public hearing sessions. However, the MPs ruled out the possibility of cancellation of results for the candidates who sat the 2022 KCSE.
In January, Education Cabinet Secretary
dismissed reports insinuating that the exam
was marred with rampant cheating despite public outcry over some of the results posted in some schools.
A host of schools, specifically in Kisii Nyanza, sparked a nationwide debate after registering a sudden rise to
the list of top performers
and eclipsing some of the recently known big names.