The
Second Lady of Kenya Rachel Ruto on
Friday, February 26 surprised her former primary school headteacher with a brand new car which was a gift for his influence on her life - more than thirty years ago.
Rachael, alongside her former classmates, paid a visit to Naftali Olasya in his home at Likuyani, Kakamega town where she gifted him the Double Cabin Toyota Hilux.
Rachel Ruto gifts her former primary school headteacher Mr. Olasya a car.
A spot check established the 2020 Toyota Double Cab Hilux goes for between Ksh3-4 million.
She said that it was a way of expressing gratitude for the countless years he gave of his life and service.
Olasya is the former headteacher of Likuyani Primary school where Rachel studied from nursery to class seven. She showered the retired teacher with
praises attributing her success to him
.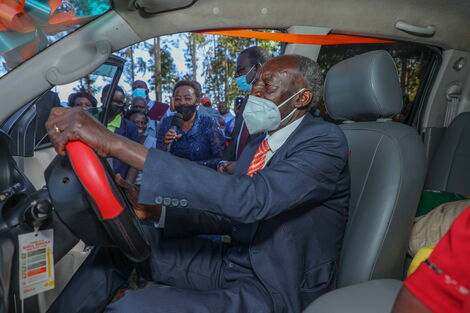 Former Likuyani Headteacher Mr. Naftali Olasya trying out his new car at his home in Likuyani on Friday, February 26
"Mr Olasya was a stern, firm, and reputable teacher who shaped our childhood years to make sure we succeeded," she wrote on her socials. It is evident that she holds him in high regard and he holds a special place in her heart. She posed for a photo seated next to him in what looks like a lunch setting.
Mrs Olasya (left), Mr. Naftali Olasya (middle) and Second Lady Mama Ruto (right)
The retired teacher and his wife could not hide their joy beneath the mask as they received car keys. Gratitude was written all over their faces as they stood in front of the car. She shared photos of the elated teacher test-driving his new car.
Joined by other alumni of the school, Rachel joined the family in mourning the loss of their daughter Bolivia Ambika Olasya. They laid flowers on the grave of the deceased as they paid their respect.
In 2020, Rachel introduced Mr. Olasya to the world in a post on her Twitter page. she affirmed that he was the beacon of fortitude in her childhood years. She narrated how he impacted knowledge, nurtured growth, and defined him as a change agent.
Some examples of financial scams and fraud running in Kenya currently are listed below:
Pyramid Schemes
These are fraudulent
schemes that promise high returns
/profits to investors. However, this is pegged on the ability of the recruit to enroll more people to join the scheme.
The next level of recruits is also expected to recruit more investors, and it thus becomes a chain of recruitment.
However, the profits from these schemes are not based on a product but rather the money that recruits 'invest' in, which is then used to pay earlier investors.
Some schemes may indicate that they have a product they are selling, but this is usually a front to entice consumers and hide the pyramid nature of the scheme.
Ponzi Schemes
These are investment schemes that promise high short-term rates of return or dividends to investors.
Investors pay money to a portfolio manager with the understanding that they will receive payment at a later date. The victims are usually under the mistaken belief that they are investing in a product or service.
Unlike a pyramid scheme, however, the investor in a Ponzi scheme is not expected to enroll new recruits in order to get paid.
When an investor wants their money back or a dividend is due, they are paid using the money received from new investors.
The cycle continues until the organizer flees with the money, which normally happens when there are no new investors being brought on board to generate enough capital to facilitate the payment of dividends.
In a bid to mitigate this, the Central Bank of Kenya (CBK) published a detailed document highlighting the most common scam jobs in the country, including steps Kenyans should take to steer clear of fraudsters.
What are the warning signs?
Being promised a high return at no risk whatsoever if you invest in a particular scheme.
Being asked to invest in an institution or scheme which is neither regulated by, nor registered with, a regulatory body.
A promise of higher returns the more people you recruit into your investment scheme.
An investment scheme with extraordinarily high returns.
The pressure to make an investment decision because the opportunity will close, or because the first investors made much higher returns than later investors.
Being asked to invest in a scheme whose details of the owners are murky, or unclear.
A guarantee of high returns, regardless of circumstances.
Being bombarded with testimonials, especially from people who have made a lot of money, or who constantly seem to be on holiday, or surrounded by expensive cars and houses.
Additionally, the advances in the field of technology have seen con artists move into that field as well.
You may be about to lose your money to fraudsters if have encountered any of the following:
Received an email or mobile phone text message informing you that you have won a certain amount of money, yet you did not enroll in any competition.
Being asked to act immediately to avoid losing the opportunity to get a particular prize.
Being asked to pay some money or fee for a free gift or access to some unclaimed money.
Received an email requesting you to assist someone (usually a foreigner) access funds in an account that someone inherited.
Received a call from someone purporting to be from a particular company, and who asks you for personal information such as your PIN, password, bank account details, credit card number.
Last edited: