The Kenya Bureau of Standards (KEBS) and the National Environmental Management Authority (NEMA) have moved to curb
killer plastic products
flooding markets and homes.
Goods flagged include cosmetics such as lip gloss, aftershave, plastic plates, clothes, toys, and containers that contain chemicals.
KEBS stated that plastics have proven to cause cancer, diabetes, increase male infertility, birth defects, and other malignant diseases as they contain endocrine (pertaining to hormones and the glands) disrupting chemicals.
In conjunction with NEMA, KEBS is set to gazette the Toxic and Hazardous Chemicals and Materials Management Regulations 2019 which will regulate
consumers' interaction with chemicals
.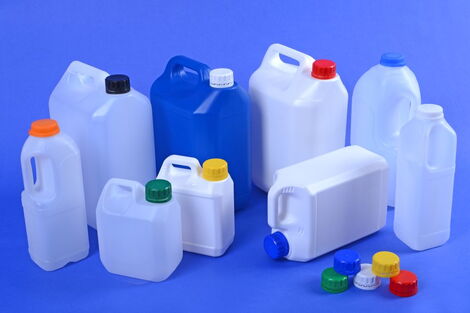 A number of plastic jerricans of varying sizes....and Plastic plates and cups on display
"We have introduced new standards that assure
Made in Kenya
products meet globally accepted chemical safety standards," KEBS Managing Director Bernard Njiraini stated.
The notice will see NEMA ban, regulate, issue registration licenses, and also categorize plastic products.
"The regulations will provide for the sustainable management of chemicals in Kenya, specifically, labeling, classification, registration, manufacture, storage, transport (road, air, and sea), distribution, handling, import, export, chemical use in mining, substances in articles/chemicals in products, polluter release and transfer register, restrictions and banning, incidents, liabilities, waste disposal and offenses of toxic and hazardous chemicals and materials," the draft says.
Firms may also be directed to display highly visible graphic warnings on products containing harmful chemicals after it was ascertained that consumers ingest plastic on a daily basis in one way or another.
It was also proven that plastics pollute the soil, air, and water during recycling, manufacture, and disposal and this affects food production through planting and irrigation. Humans end up consuming these foods.
The draft adds that once implemented, there will be a transitional period of six months for all in the supply chain including producers, manufacturers, importers, and handlers to comply with the regulations.
It also contains a schedule of prescribed fees that include: Registration application – Kshs 5,000, application for a license to manufacture/distribute/transport/store – Kshs 5,000, import/export/transit permit – Kshs 50,000 and annual laboratory operating license – Kshs 30,000.
In 2017, Kenya
passed a stringent law against plastic bags
. Two years later, she was one of the nations around the world that signed on to a global agreement to stop importing plastic waste.
Last edited: