2 businessmen were charged with
packing soil in Ksh1 million sugar bags
and planned to defraud a customer in Eastleigh, Nairobi. Police officers who launched a manhunt for the suspects and apprehended them said that the incident occurred on Friday, January 29.
The duo was arraigned before Makadara Law Court's Chief Magistrate Angeli Kithinji, on Tuesday, February 2. The prosecution claimed that Khalif Abdi Noor and Ezekiel Omeka packed soil in 300 sugar bags.
It added that the two suspects narrowed on 50-kilogram bags with the logos of a popular sugar company in Kenya to defraud their unsuspecting customer. Omar Mohammed, the victim, had offered them a tender to supply sugar worth Ksh1 million.
Noor and Omeka were further accused of using accomplices to orchestrate the plot. Their alibis were sent to deliver the sugar at Mohammed's store as the duo who received the money fled to a secret location to divide the money.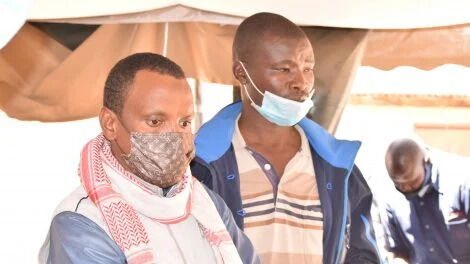 Khalif Abdi Noor (left) and Ezekiel Omeka (right) at a Makadara Law Court on Tuesday, January 2, 2021
The businessman, however, raised an alarm after discovering that the 300 sugar bags contained soil. By then, the deliverers had already driven away from the store.
Law enforcers said that they were tracking the lorry which was used to defraud the businessman.
Noor and Omeka denied the charges pressed against them.
The latter claimed that he was being mistaken for a robber as he was arrested alongside Noor who was just but a neighbor.
He added that he was a technician and was repairing gadgets at Noor's house when police raided the premises and accosted them. He alleged that his only mistake was being in the company of the co-accused.
The magistrate released them on Ksh 300,000 cash or Ksh 400,000 bond pending a hearing on June 29.
Over the past years, the Directorate of Criminal Investigation
heightened its crackdown on syndicates
, scammers and fraudsters within Nairobi County and its environs. They targetted suspects who were notorious for conning citizens in an automobile, freight and technology (mobile and laptops) sectors to fake money and firearms syndicates.
They also partnered with other entities such as the National Transport and Safety Authority (NTSA) to curb car and identity theft criminals, the Ethics and Anti-Corruption Commission (EACC) to arrest fake tender deals suspects and also rallied the public to report and expose incidents.
In August 2020, the Federal Bureau of Investigation (FBI) ranked Kenya as one of the top nations
prone to cybercrime and other scams
.
The Interpol report dated August 14, detailed that online organized crime in Kenya and other African states is being motivated by digitization which makes it easier for criminals to target unsuspecting prey.
2.
The United States wants Kenyan authorities to institute
tougher copyright laws
in a bid to significantly change the technology and entertainment industries in East Africa's largest economy.
This is part of the bargaining objectives in the Kenya-US trade talks that call for Kenya's dedication ahead of the bilateral deal signing.
Entertainment giants including Netflix, Walt Disney Studios, Universal City Studios and Warner Brothers, have stated that Kenya to revamps copyright legislation by instituting tougher penalties for both ind
ividuals and corporates aiding copyright violations
, in a letter to the Office of the United States Trade Representative.
They made the demands through the International Intellectual Property Alliance (IIPA) lobby group which is a merger of five that's is Association of American Publishers, Entertainment Software Association, Independent Film and Television Alliance, Motion Picture Association and Recording Industry Association of America.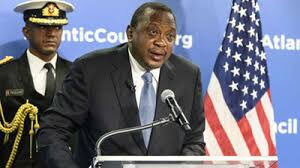 President Uhuru Kenyatta during Kenya-US trade talks
IIPA highlighted that Kenya's copyright legal and enforcement framework remains deficient, and
piracy particularly
online has been a major barrier for the creative industries in Kenya.
They expect Kenya to enforce the World Intellectual Property Organisation (WIPO) Internet Treaties. These include creating effective legal protection for technical measures such as digital locks used by streaming companies like Netflix, Amazon, Apple TV and Hulu to block unwarranted access to their content.
Additionally, Kenyan authorities are required to incorporate secondary liability principles by holding service providers accountable for infringements carried out by third parties on their services.
Secondary liability creates legal incentives for service providers to cooperate with copyright owners to address online infringement," said IIPA.
This was sighted in light of the suit against Safaricom and Jamii Telecom Ltd for copyright infringement under the secondary liability principle by Pay-TV service provider.
The pirating movie business employs thousands of Kenyans with numerous shops being opened in urban areas. The rural areas mainly rely on pirated copies that feature translations or
exaggerated narrations in vernacular languages
.